Believe it or not, binocular glasses were first created not as a tool that fine craftsman could use. Nor were they made to manipulate small components like those required in watchmaking
Instead binoculars glasses were create so opera goers would be able see all of the action on stage even if they ended up having to sit in the nosebleeds.
Originally invented by a German man, he quickly secured patents in the United States and all across Europe for his interesting little innovation.
Binocular Glasses Video Review –
Watch Below
 Binocular Glasses Specifications
| | MaxTV Glasses | MaxTV Clip On | MaxEvent |
| --- | --- | --- | --- |
| | | | |
| Magnification | 2.1x | 2x | 2.1x |
| Lens Size | 32mm | 32mm | 32mm |
| Lens Type | Galilean | Galilean | Galilean |
| Case | Yes | Yes | Yes |
| Focal Range | 10 Feet + | 10 Feet | 10 Feet + |
| Field of View | 20 Degrees | 18 Degrees | 20 Degrees |
| PD Range | 60mm-68mm | 60mm-68mm | 60mm-68mm |
| Weight | 1.7 ounces | 1 ounce | 1.7 ounces |
| Separate Focus | Yes | No | Yes |
| Lens Height Range | N/A | 5 lens heights | N/A |
| | READ REVIEWS | READ REVIEWS | READ REVIEWS |
What Are Binocular Glasses?
Binocular glasses are pretty simple and straightforward to understand.
They are essentially traditional glasses that give you a superior zoom level so that if your sight is deteriorating and you're unable to see the TV properly, then magnifying glasses could help you.
Not all dissimilar in shape, style, or aesthetic as a pair of common glasses or safety glasses.
Interestingly enough, you can use a number of different magnification lenses in a pair of binocular glasses.
You can even go so far as to have one lens over one eye set at a particular magnification and another lens set over another eye with a completely different set up.
Download My FULL Excel Sheet with over 200 Binoculars
I've compiled an Excel spreadsheet with all the binoculars that Amazon stock.  I'm happy to share it with you.  As it's Excel you can slice and dice the data however you choose.

Thanks for sharing! Click HERE to download the Excel file.
Clip On Binocular Glasses Video –
Watch Below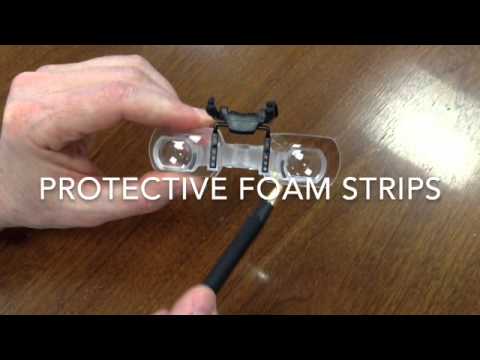 Why Would I Want Binocular Glasses?
Most frequently used by craftsmen ever since they were first designed and developed to create higher levels of detail than they ever would have been able to with their own 20/20 vision.
They're also used by industries that require the manipulation of almost microscopic parts or components (watchmaking, modeling, and the production of fine goods, etc.).
Modern-day uses for binocular glasses include:
Manipulating tiny objects as though they were much larger
Being able to see your television from all the way across the room without having to get up and sit any closer
Being able to see movies or plays (and even the opera) in a theater from any seat in the house
Using them at a ballgame to have seats right on the 50 yard line, half court, or right behind the dugout – even if you are physically up in the nosebleeds
And even just helping you read smaller print that your prescription glasses struggle to pick up!
Obviously, that list is nowhere near complete or comprehensive, and barely begins to scratch the surface of just how useful the best binocular glasses are for modern life.
Magnifying Glasses: What Should I be Looking for?
There are a number of different things that you need to focus on before you decide to invest in a pair of magnifying glasses.
First, you need to make sure that you are purchasing a pair of binocular glasses that are comfortable to wear for extended periods of time.
If you don't purchase glasses that are as comfortable as the ones that you would normally wear, you're never going to end up taking advantage of them even if they are well-made, use the best lenses available, and would make your life that much easier.
Secondly, you need to make sure that you are purchasing glasses that have been crafted out of high-end lens materials.
After all, what good is it to zoom in on the smallest things in life if that view is only going to be blurry, shaky, or distorted?
Luckily, most of the better manufacturers out there craft their lenses with a very fine attention to detail, understanding just how important this factor is to their customers.
Finally, you're going to need to invest in the kind of optical zoom that will be useful for you in specific situations you'd like to use these binocular glasses in.
Not everyone requires a 25x zoom level all the time, but some people wouldn't be able to get any real advantage whatsoever out of a 2x zoom level either.
Really focus on what you intend to use these glasses for before you purchase a product, and you'll end up much happier in the short and long-term.
Are There Any Popular Models of Binocular Glasses?
There are a lot of popular glasses out there on the market today, but the best of the best are manufactured by Eschenbach Optik of America, Inc.
One of the premier producers of these types of glasses found anywhere around the world.
Not only are these glasses created out of the highest and construction materials and lenses available – but they are also created with the user in mind and are comfortable, stylish, and very accessible.
The Eschenbach Optik of America, Inc has a number of different options available as far as binocular glasses are concerned, so you should have no difficulty in finding the perfect product for your particular needs.
Whether you're just looking for a solution to help you watch TV, or you want to take advantage of binocular glasses to feel like you're right on the field with your favorite team, or maybe you want to tackle hobbies that require you to manipulate tiny little objects as though they were "full-sized".
Either way you'll be able to find the right binocular glasses from this manufacturer.
What About These Zoomies Glasses?
You have most likely already seen the TV commercials selling the cheap Zoomies glasses or Zoomies binoculars and you might be wonder if they'll do a good job.
Well from many reports online this product is just selling hype.  These type if binocular glasses should be classed as a toy really.  If you have a serious eye sight condition then you need to use a quality product.
The same old saying "You Get What You Pay For", applies here, I would steer clear of this product unless you're just looking to have a little fun.