With binoculars popularity seemingly ever increasing, professional standard binoculars are becoming common place in the average household.
The prospect of getting closer to nature is a tantalising one, and the simplest and safest way to achieve it is through binoculars.
But what if you are on a budget?
Professional level binoculars aren't exactly cheap, with some pairs pushing safely into the four figure price tags.
Well for those on a budget Celestron may have made the perfect binoculars for you, with their latest entry in the form of the Celestron Nature DX 8×42 Binoculars.
Celestron Nature DX Binoculars Video Review – 
Watch Below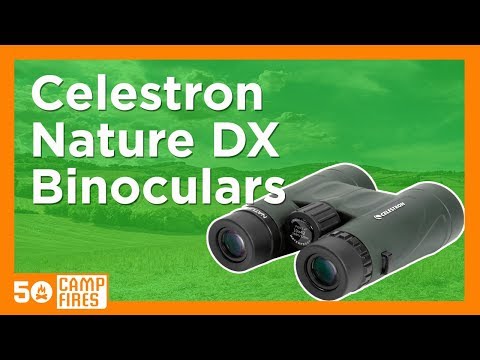 Specifically targeted at beginner to intermediate binocular users, Celestron aim to achieve the perfect balance between ease of use and quality, giving an excellent image quality without all of the features of professional standard binoculars the everyday man would never use.
But do they achieve a good standard of viewing, or is another case of you getting what you pay for?
Celestron Nature DX Binoculars Specifications
| | Celestron Nature DX 8x42 | Celestron Nature DX 10x32 | Celestron Nature DX 10x42 |
| --- | --- | --- | --- |
| | | | |
| Size | 8x42 | 10x32 | 10x42 |
| Lens Coating | Fully Multi-Coated | Fully Multi-Coated | Fully Multi-Coated |
| Field of View | 388 ft. | 304 ft. | 304 ft. |
| Close Focus | 6.5 ft | 6.5 ft | 6.5 ft |
| Eye Relief | 17.5 mm | 14 mm | 14 mm |
| Weight | 22.2 oz | 18 oz | 22.2 oz |
| Dimensions | 5.3 x 4.9 x 2 inches | 5 x 4.9 x 1.8 inches | 5.3 x 4.9 x 2 inches |
| | READ REVIEWS | READ REVIEWS | READ REVIEWS |
Main Use For The Celestron Nature DX Binoculars
The Celestron Nature DX binoculars carry an 8x magnification.
It's this relatively small magnification potential that dictates the main usage of these binoculars.
Where the 42mm objective lens creates a field of view wide enough to take in impressive landscapes, the lower magnification doesn't bring a great deal of detail into focus, so for landscape viewing you'd be more suited to a 10 or 12x zoom at least.
However, the 8x zoom present here makes these binoculars ideal for getting up close and personal with plants, insects and animals, bringing a great level of detail to the playing field.
Also, because of the massive distance between land and space, a couple of degrees of magnification is not going to make much difference when you turn your binoculars to the skies.
This pair of binoculars has had good results when turned to space, and is an excellent and cheap method of viewing your favourite star clusters and to some extent constellations.
Download My FULL Excel Sheet with over 200 Binoculars
I've compiled an Excel spreadsheet with all the binoculars that Amazon stock.  I'm happy to share it with you.  As it's Excel you can slice and dice the data however you choose.

 Click HERE to download the Excel file.
Glass/Lens
The 71332s use fully multicoated optics, which is excellent to see in a sub $150 pair of binoculars.
By employing the use of BaK-4 Prisms with phase correcting coatings, image contrast is increased along with resolution for sharper more detailed images.
With built in lens covers, this premium glass is also protect against accidental damage that may occur on the more rigorous hikes.
Celestron Nature DX Binoculars – 
Watch Below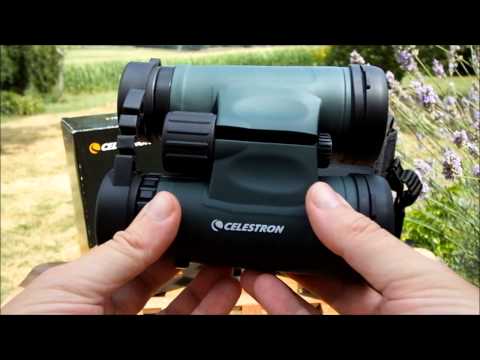 Magnification
Celestron offer a basic 8x magnification with their Nature DX binoculars. 8x magnification tends to be the lowest magnification achievable in a pair of binoculars, and here it is applied of a 42mm objective lens.
This gives an excellent wide field of view, but not enough zoom for activities such as marine mammal observation or extensive hunting.
What 8x magnification is perfect for however, is up close observations of birds, insects and plants.
Image Quality
The quality of image offered by these binoculars is generally good.
However, with a pair of binocs specifically designed for beginner to intermediate users, the image quality is not going to be up to the same standard as some professionally targeted pairs.
Where these are an steal at $150, if you pushed yourself nearer to the $300 mark, you could get a fabulous pair of Nikons with image quality second to none, without any of the blurring you are likely to find in these Celestrons.
Eye Relief
As standard, binoculars tend to allow enough space for the visually impaired to be able to use them without having to change from their glasses to contact lenses.

This is again the case with these binocs from Celestron with twist up eye cups there is plenty of space and comfort provided when it comes to viewing, enabling you to focus on the image rather than on what to do with your specs.
Celestron Nature DX Promo Video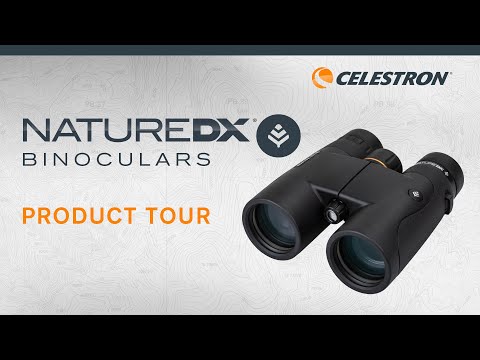 Pros
The major plus points with these binoculars is the price, along with the versatility in terms of use.
You can pick up this pair of binoculars for under $150, which when you think about all of the included features, accessories and the number of uses is an absolute bargain.
It's tough to find a binocular that is cheap, that hasn't cheaped out on the standard of glass, but this offering from Celestron is one of those rare finds.
Cons
With budget pairs of binoculars, some faults are to be expected. Unfortunately, a few have crept into this pair.
The major issues reported are to do with some image blurring when it comes to viewing the finer details at the full extent of the magnification offered, as well as a fiddly set up when it comes to adjusting the width of the eye pieces.
Conclusions
Designed specifically to target beginners on a budget, these binoculars achieve what they set out to do.
However, if you really want a top quality image, you should look at extended your budget, and going elsewhere.
Sometimes, products escape the saying of 'you get what you pay for' and unfortunately, this stellar effort from Celestron falls into that category.They are durable, affordable, and easy on the eye.
Having said that, as a first pair of binoculars, you can do a lot worse, and these will serve you well for getting up close and personal with nature, but not a great deal else.
Celestron 71332 Nature DX 8x42 Binoculars
Binocs
Best to view impressive landscapes!
Designed specifically to target beginners on a budget, these durable and easy-to-use binoculars achieve what they set out to do.