If you have a little one that would love absolutely nothing more than to spend just a bit of extra time with you out in the woods or just glassing your local outdoor spaces, then the odds are fantastic that you need to focus on picking up a pair of kids binoculars for the task.
This probably seems like something pretty simple and straightforward to do, but literally nothing could be further from the truth.
Not only are you going to find the world of kids binoculars to be absolutely overloaded with different makes, models, and varying degrees of quality and consistency – which are also going to find that prices, special features, and design attributes are all over the place as well.
Hopefully you'll be able to use this quick guide to find the right pair of kids binoculars for the little one in your life without any headache or hassle!
How To Make Kids Binoculars –
Watch Video Below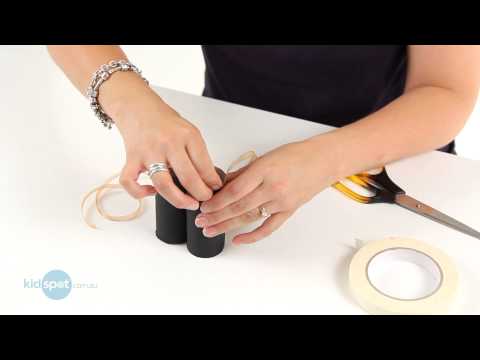 The Best Kids Binoculars Available
We created the below table to make it a little easier to see what are the best kids binoculars currently available.

Table Legend:
Size: Size of the binoculars e.g. Magnification x Lens Diameter
Field of View (FOV): Measurement of what can be seen through the binoculars
Weight: Weight of binoculars
Rating: Rating provided by reviews on Amazon.com
Cost: $$ = Very High Priced, $ = High Priced
Download My FULL Excel Sheet with over 200 Binoculars
I've compiled an Excel spreadsheet with all the binoculars that Amazon stock. I'm happy to share it with you. As it's Excel you can slice and dice the data however you choose.

Thanks for sharing! Click HERE to download the Excel file.
Kids Binoculars Do Not Have to be Underpowered
The world of kids binoculars can be separated into two different and distinct areas:
Toy binoculars that are little more than four magnifying glasses stuck on the ends of plastic tubes that have been connected in the middle,
Real "compact" binoculars that are powerful and high quality enough for adults but user-friendly enough for children.
Obviously, you're going to need to focus on exactly what kinds of applications your little one is going to be using their new binoculars for before you decide which of these two different types of kids binoculars to purchase.
If you just need a pair of "playing around" binoculars, then you can probably get away with toy binoculars – and should have absolutely no trouble whatsoever purchasing a pair for anywhere between $5 and $20.
At the exact same time, if you want to make sure that your child is able to see everything that you're able to see when you're out spending time with each other, you're going to need to step up a level in price to make sure that you get the right quality binoculars in their little hands.
Compact binoculars that have been designed specifically for the small hands of children (come with safety dampening features that we will go into in-depth in just a moment) are probably best for that type of investment.
Always Consider Budgetary Concerns when Purchasing Kids Binoculars
The next thing that you're going to want to focus on is just how much you're willing to spend on a pair of kids binoculars.
There's certainly something about purchasing your child their first pair of "real" binoculars, spending anywhere between $50 or more to make sure that they get the kind of high quality equipment that you would have been happy to have in your youth.
But you need to weigh that against the cold hard reality that children can be a little bit clumsy with delicate pieces of equipment like binoculars, and they also have notoriously fickle attention spans and may not take to glassing quite the same way that you have.
It would be difficult to imagine anything worse than spending $75 or more on a pair of truly high-end kids binoculars, only to find out that your little tyke has drop them in a riverbed while you were out scouting or has absolutely no interest in glassing any longer – and they sit and collect dust up on the shelf.
Kids Binoculars Frequently Come Jampacked with Special Features
After you have decided which type of kids binoculars you are going to purchase, you'll want to focus on special features that these kinds of binoculars come jampacked with.

Kids binoculars frequently have all different kinds of "gizmos and doodads" attached to them.
We are talking about:
Flashlights so that they can have "night vision capabilities"
Built-in miniature digital cameras to snap pictures of whatever they see in the viewfinder
Ergonomic grips that allow them to squeeze their little hands around equipment that may not have been easy to do without those same grips
And a whole host of others that could help elevate their experience dramatically
Again, you're going to need to balance just how much you're willing to spend on a pair of kids binoculars with just how many special features you want your little one to enjoy – a tight rope walk that is going to be quite difficult to maneuver.
However, with just a bit of thought (probably serious consideration as to how much you willing to budget), you should be able to figure this all out without any real headache or hassle at all.

Consider Investing in High Visibility Finishes or a Harness to Protect your Binoculars in the Future
If you are serious about purchasing high quality binoculars for your child, you'll want to consider investing in high visibility finishes (we're talking about safety orange and the like) or a dedicated harness that you can attach to the binoculars – and then to your child – to make sure that these pieces of equipment don't go missing and aren't damaged.
It may seem as though this is taking unnecessary and extra precautions, but if you pay any attention whatsoever to the nightmare scenarios that parents have talked about online in regards to their children losing binoculars in record time – or forgetting that they had them in their hands and dropping them on a hard surface to only shatter them be on repair – you'll soon see exactly why the steps are necessary.

Closing Thoughts
While certainly not a complete or comprehensive list of all the things you want to consider when investing in kids binoculars, hopefully you find the information provided above useful during your search.

You are going to find a tremendous amount of products specifically designed for children in the binoculars space, many of them with almost identical capabilities to the ones that you have in your own full frame binoculars.
Pay attention to the tips and tricks above, and you should have no trouble whatsoever successfully navigating things and getting out with your little one and enjoying all that a bit of glassing has to offer!
More Kids Binoculars